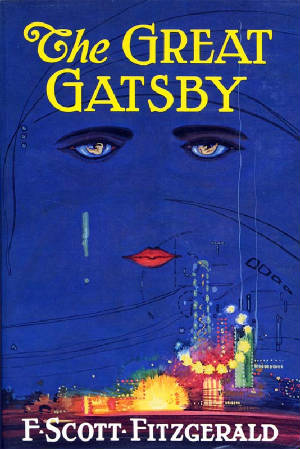 Details about this book:
Published by Charle Scribner's Sons
First publication in April 10, 1925
F. Scott Fitzgerald was 29 at the time
Considered Fitzgerald's finest accomplishment
Widely acknowledged as the closest thing to the Great American Novel ever written
Immediate critical success, but failure in sales
Before writing "Gatsby," Fitzgerald wrote five short stories which are now referred to as "The Gatsby Cluster" because they are all related to the novel in some way. These five are "Absolution," "Winter Dreams," "The Sensible Thing," "The Diamond as Big as the Ritz," and "Dice, Brassknuckles, and Guitar"
Setting is in the Spring of 1922 in Long Island and New York City
Themes associated with this novel include the spirit of the 1920's, the decline of the American dream, and the role of the past in dreams of the future
The character of Jordan Baker was identified by Gatsby as being modeled after Edith Cummings, winner of the 1923 U.S. Women's Amateur golf championship
The noun "time" is the most frequently used theme-word in this novel, being used 87 times throughout
In July of 1923, Fitzgerald recieved a letter from a Long Island bootlegger named Gerlach or "von Guerlach" which used the term "old sport." This has been researched but more information has yet to be discovered about "von Guerlach"
The source for the character of Meyer Wolfshiem is actually a gambler named Arnold Rothstein who was suspected of having fixed the 1919 World Series
Fitzgerald uses a completely imaginary geography of Long Island for the novel's setting
Fitzgerald never liked the title "The Great Gatsby" and believed it would commercially damage the novel. He attempted to adapt many other titles before settling, including "Trimalchio in West Egg," "Trimalchio," "The High-bouncing Lover," and "Gold-hatted Gatsby"
The Great Gatsby focuses on the narration of Nick Carraway, a young man renting a house in New York during the summer of 1922, and the story of Jay Gatsby, his wealthy, but mysterious next-door neighbor. The two meet at one of Gatsby's extravagent parties and become fast friends, but Nick soon discovers that Gatsby is not quite so innocent in his motives. As the story unfolds we are introduced to Daisy and her adulterous husband, Tom Buchanan, and quickly watch as Nick is buried deep in the world of love, mystery, and heartbreak that, in many ways, define life during the 1920's.
Excerpt from page 52-54 in the novel when Nick first meets Gatsby:
""I'm Gatsby," he said suddenly.
"What!" I exclaimed. "Oh, I beg your pardon."
"I thought you knew, old sport. I'm afraid I'm not a very good host."
He smiled understandingly-much more than understandingly. It was one of those rare smiles with a quality of eternal reassurance in it, that you may come across four or five times in life. It faced-or seemed to face-the whole external world for an instant, and then concentrated on you with an irrestible prejusdice in your favor. It understood you just so far as you wanted to be understood, believed in you as you would like to believe in yourself and assured you that it had precisely the impression of you that, at your best, you hoped to convey. Precisely at that point it vanished-and I was looking at an elegant young rough-neck, a year of two over thirty, whose elaborate formality of speech just missed being absurd. Some time before he introduced himself I'd got a strong impression that he was picking his words with care.
Almost at the moment when Mr. Gatsby identified himself a butler hurried toward him with the information that Chicago was calling him on the wire. He excused himself with a small bow that included each of us in turn.
"If you want anything just ask for it, old sport," he urged me. "Excuse me. I will rejoin you later."
When he was gone I turned immediatly to Jordan-constrained to assure her of my surprise. I had expected that Mr. Gatsby would be a florid and corpulent person in his middle years.
"Who is he?" I demanded. "Do you know?"
"He's just a man named Gatsby."
"Where is he from, I mean? And what does he do?"
"Now you're started on the subject," she answered with a wan smile. "Well,-he told me once he was an Oxford man."
A dim background started to take shape behind him but at her next remark it faded away.
"However, I don't believe it.""